Pergola Design in Melbourne
Pergolas are a beautiful addition to any outdoor design. They can express a classic and whimsical feel, yet work in harmony with contemporary models. Pergolas can enhance the look and growth of your garden's plants, allowing them to grow and intertwine throughout the structure, creating a delightful natural design.
For those who like to spend time outdoors just to relax or for entertainment purposes, pergolas or if you prefer a roofed area attached to your home, verandahs, can often act as an umbrella like structure, which provides shade from the sun and other weather occurrences, while at the same time, maintaining the feel of an outdoors atmosphere.
Overall, pergolas add to the value of any home, due to their visual and charming appeal as well as their ability to not only coexist with plants and nature, but integrate them into their structure and design.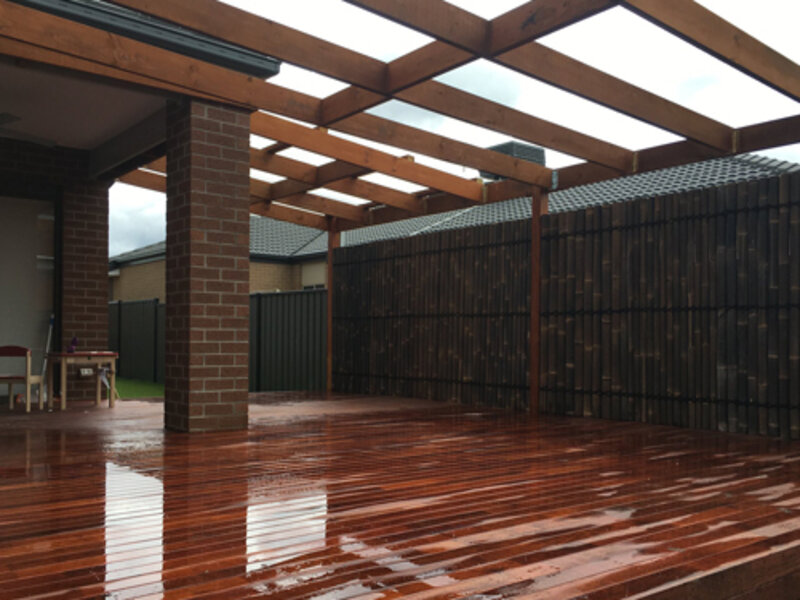 Pergola Builders In Melbourne
Our landscape architects can create classic Italian pergolas or a modern pergola design to be used as an entertainment space. From beautiful timber pergola designs to using durable concrete pavers, we can provide you with high-quality building material options that we will install and finish, so that your pergola is a strong, lasting structure.
Timber Pergola Designs in Melbourne
Timber pergolas or verandahs are natural and look beautiful in any garden or outdoor area. If you are unsure of what type of timber you want, what colour or what timber pergola designs you'd like your pergola to be made from, you can rely on the team at Brisk Landscaping for honest advice.
Our team at Brisk landscaping can help you customise the pergola style that you desire, enhancing the value and aesthetics of your outdoor space.
Competitive Rates: Pergola & Verandah Builders In Melbourne
We believe that quality landscape design work for your Melbourne home or workplace shouldn't need to break the bank. We will discuss your options and provide you with a competitive rate on any of our services.
If you are looking to complement your garden or outdoor area with a beautiful pergola design, contact us at 1300 027 475Enhance The Space Around Your Pergola
We pride ourselves on our the quality of our work and aim to always achieve meeting our client needs and design vision. After all, it is the client who will be using the space we create for them.
If your new pergola is part of your renovations or a greater redesign plan, our team of landscape architects provide a range of services that can further improve the functionality or look of your outdoor space or yard.
We provide the following services and more.
Gardens and grounds maintenance
Design and installation of water features
Retainer Walls
Installation of natural or synthetic turf
Turf maintenance
Property Maintenance
If there is a similar service related to landscaping and landscaping architecture, chances are we'll cover it. Talk to our friendly team about your options.
Pergolas are one of the most beautiful features for any outdoor space, and can easily enhance the look and feel of any landscaping project. Pergolas are a great installation choice, especially for those who prefer spending a lot of time outdoors. These are timber built structures that can provide a good amount of shade to the area covered under them. Many designs do have simple slatted grill-like roofs, but you can also opt for full thatched roofs or full timber covered roofs if you want protection from rain in case you wish to use outdoor furniture as well.
Work With The Best Pergola Builders in Melbourne
When it comes to Pergola design in Melbourne, our teams are highly innovative for ideas and experts at the execution as well. Pergolas have multiple solid wood beams that hold the structure upright, and light yet structurally strong roof overhead that covers the desired area. Our teams are some of the best Pergola Builders in Melbourne and can create any design you want for your outdoor space.
SERVICING MELBOURNE WIDE
1300 027 475

info@brisklandscaping.com.au
CONTACT INFROMATION
Email us for any inquiry you have.
Suburbs We Regularly Serve