Synthetic and Natural Turf in Melbourne
Thinking of getting synthetic turf this month? Upgrade to premium quality for free. Call us at 1300-027-475 to book!
As a convenient alternative to natural grass, both synthetic and natural turf have become more and more popular in the landscaping business over the past few years. Turf does not only look appealing, but it can also increase the value of your property and lower the amount of water used periodically as you care for your garden. Unlike regular grass, the main benefit of turf is that it is incredibly low maintenance and requires little upkeeping. Our synthetic and natural turf options are made to appear and feel like natural grass and can suit a variety of settings including gardens, sporting fields, children's play areas, and more.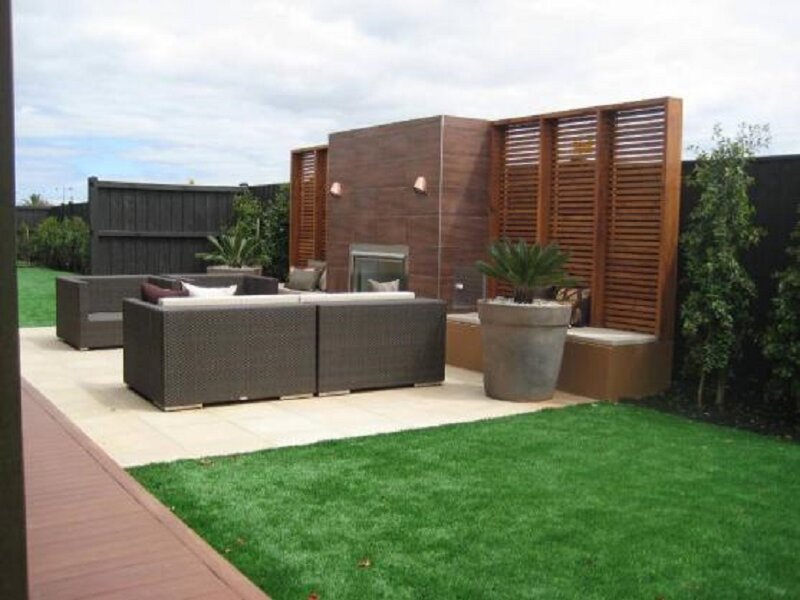 At Brisk Landscaping, we work with you to create a turf solution that works best for you and that benefits the area in which you are intending to install it. We take you through the basics of deciding which type of turf will be the most appropriate, and our team of professionals then proceeds to an efficient installation process guaranteeing only the best results possible.
If you are looking to add synthetic or natural turf to your outdoor area, contact us at 1300 027 475
We are pleased to carry the top Synthetic, and Natural Turf Melbourne has to offer. This synthetic grass was created specifically to survive Australian conditions, including the unpredictable weather of Melbourne. It can withstand spills, stains, pets, children, and more because it is long-lasting.
For synthetic turf installation throughout Melbourne, contact Brisk Landscaping, the best Synthetic Grass Supplier & Installer.
We offer Synthetic and Natural Turf Melbourne installation and maintenance services. We take great satisfaction in offering Melbourne residents expert guidance on how to lay turf themselves and assistance on how to make the most of their landscaping designs.
We are experts in installing Synthetic and Natural Turf in Melbourne that Melbourne residents can rely on. We are aware, nevertheless, that many users choose to install their own grass. Melbourne locals may count on Synthetic Grass Supplier & Installer Brisk Landscaping for guidance, regardless of whether they are experienced professionals or just starting out with DIY artificial turf installation.
Bring your Synthetic and Natural Turf Melbourne landscaping plans with you when you come to see us in our showroom. We'll examine them and provide you with advice on how to proceed with your ideas, including the best kind of turf to use and how to install it yourself. We can also give you access to a DIY package that includes a step-by-step instructional video.
For Synthetic Grass Supplier & Installer projects in Melbourne, artificial turf is the ideal material because it requires so little upkeep. Synthetic turf just needs maintenance once or twice a year, as opposed to natural grass lawns, which require routine, bi-weekly maintenance.
Discover How We Service and Maintain Artificial Turf Across Melbourne:
Anywhere there is a turf, it is most likely that there will be dirt, sunlight, and water. And such elements of weather coupled with long hours of usage can cause wear and tear. We we utilize superior treatments to clear out and correct such small issues to ensure that the turfed areas remain even.
Damage, spills, and stains
Although synthetic turf is renowned for being quite resilient, accidents do happen, and even the most resilient turf can be damaged. Our staff is composed of specialists in repairing tears and other damage as well as eradicating any spills or stains.
Pet waste can be readily cleaned up or scooped off synthetic turf. But if you require some workers with more experience, we can assist you.
Advantages of Natural Turf
Under identical conditions, artificial turf has been shown to be significantly hotter than natural grass. This is due to the water that is present in natural grass, which gives it its cooling effects.
Environment-Related Issues:
One of the biggest critiques of artificial turf has been its infill, which is recycled rubber tire crumbs. There has been some worry that tires contain carcinogens due to their heavy metal and other pollution concentrations. Though current research indicates there is no increased health risk, recent instances of soccer players who played on artificial fields being diagnosed with cancer have also sparked concerns.
Installing an artificial lawn is expensive. If homeowners want to regulate the temperature of the lawn, they must pay for grass removal, ground preparation (crushed rock), and the watering system.
There is no substitute for the sensation of walking on genuine grass without the additional maintenance and hassles; hence natural turf is the clear winner.
SERVICING MELBOURNE WIDE
1300 027 475

info@brisklandscaping.com.au
CONTACT INFROMATION
Email us for any inquiry you have.
Suburbs we  Regularly Serve